Scarborough provides the perfect seaside holiday venue for people of all ages, with it's safe beaches and numerous other attractions. Scarborough is divided into two bays – North Bay and South Bay. The North Bay contains holiday chalets and fun parks, with attractions like Peasholm Park, Miniature North Bay Railway, Scarborough Sea Life Centre and The Sand's development. The South Bay is where the harbour and commercial premises are located. The cafes, restaurants, amusement arcades and shops are a great attraction and source of holiday enjoyment.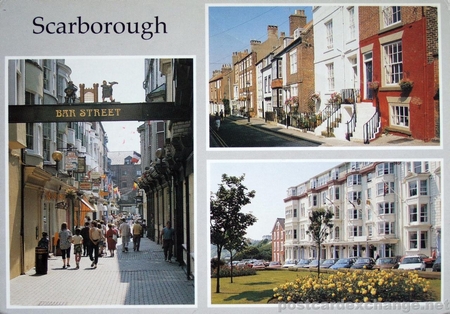 Find Pen Pals from Great Britain
Scarborough, Britain's first seaside resort, has been welcoming visitors for over 360 years and is still as popular as ever. The resort offers first class attractions such as the award winning Sea Life Marine Sanctuary, Kinderland children's fun park and Scarborough Art Gallery. The resort provides a great choice of high street shops and boutiques. Scarborough boasts many quality restaurants, each serving a variety of fresh local produce.
Read more about Scarborough
Take a look at online map of Scarborough:
Technorati tags: [ Scarborough | Bar Street | postcard ]
Bar Street in Scarborough