This postcard comes from french series "Chateaux de la Loire" – Chambord (873). Chambord, which measures 156 meters by 117 meters and has 440 rooms, is the largest of all the Loire castles. In terms of sheer scale, it foreshadows Versailles. It appears suddenly at the edge of a path, and the sight of its white massive structure that widens and takes shape little by little, produces a dramatic impression, which is even more striking at sunset.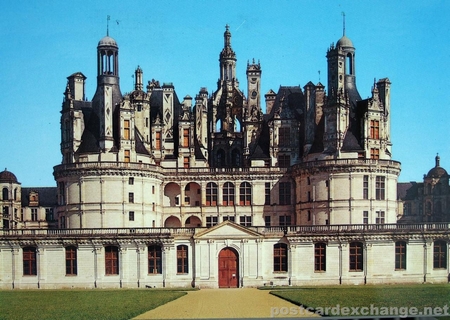 The Chateau of Chambord in one of the loveliest Renaissance buildings in the Valley of the Loire. Chambord, chateau, park, and village in the department of Loire-et-Cher in central France. The chateau of Chambord was a retreat for French kings, especially Louis XIV. It was under his auspices that French dramatist Moli?re's Monsieur de Pourceaugnac and Le bourgeois Gentilhomme were first produced there.
Chambord is probably the most majestic of the Loire Valley castles. We highly recommend the pleasurable experience of wandering the huge halls full of royal history, strolling in the park and spotting a stag or perhaps a wild boar at sunrise or sunset, or enjoying the fabulous equestrian "Son et Lumiere" show held in full Renaissance costume, from May to September.
Read more about the Chambord Castle
Satellite image of the Chambord Castle:
Technorati tags: [ Chambord | castle | Loire | France | postcard ]
Chambord Castle – Chateaux de la Loire