The sleek John Hancock Center as seen from Lincoln Park along the northern edge of Chicago's magnificent lakefront skyline. Lincoln Park is one of the best parks in the nation, especially when you add in the Lincoln Park Zoo and the Lake Michigan shoreline. There is just so much to do (driving range, beaches, walking paths, bike paths, free zoo, restaurant, plenty of places to sit in the shade), great views, and it is literally surrounded on three sides by great residential neighborhoods.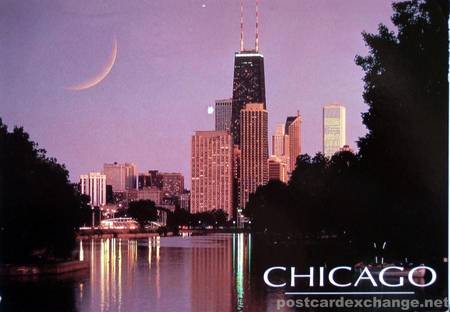 From rich pond life teeming with frogs, herons, and dragonflies, to shrubby areas where migratory birds stop to rest, to lush prairies filled with native grasses and wildflowers, the Chicago Park District offers opportunities to explore nature in the city. A vast array of lagoons, wetlands, prairies, woodlands, river edges, bird sanctuaries, dunes and wildlife gardens are home to a surprising variety of birds, butterflies and insects, small mammals, and aquatic animals.
Satellite image of Lincoln Park, Chicago
The area now known as Lincoln Park in Chicago was still primarily forest with stretches of grassland and occasional quicksand, and was virtually untouched by Europeans as late as the 1820s. Lincoln Park, for which the neighborhood was named, stretches along the lakefront from Ardmore Avenue (in Edgewater) south to North Avenue. The park contains a zoo, an outdoor theatre, a rowing canal, the Chicago History Museum, the Peggy Notebaert Nature Museum, ponds, playing fields, and a large statue of General Grant.
Read more about Lincoln Park, Chicago
Technorati tags: [ skyline | chicago | lincoln park | moon | postcard ]
Chicago's magnificent lakefront skyline