The description on this postcard says that the Comiskey Park is the home of the Chicago White Sox. It is located on the southside of Chicago at 35th Street and Shields. The ballparks first season was in 1991.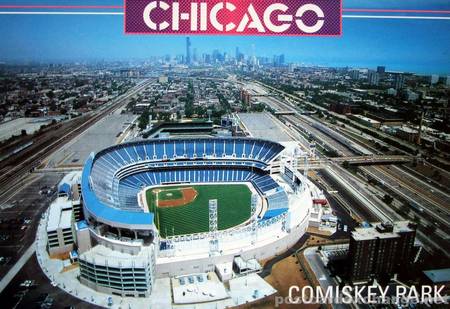 However I also found that it was the ballpark in which the Chicago White Sox played from 1910 to 1990. It was built by Charles Comiskey after a design by Zachary Taylor Davis, and was the site of four World Series and more than 6,000 major league games. From the 1970s until its demolition in 1991, Comiskey was the oldest park still in use in Major League Baseball.
Satellite image of Comiskey Park, Chicago
Comiskey Park was demolished in 1991, a process that started from behind the right field corner, and took all summer. The last portion to come down was the center field bleachers and the "exploding" scoreboard. The site of the old park was turned into a parking lot to serve those attending games at the new Comiskey Park (later renamed U.S. Cellular Field).
Is there anyone from Chicago who can tell what this place looks like now?
Read more about the Comiskey Park, Chicago