Hilsen fra Danmark. The kingdom Denmark (Kongeriget Danmark) is situated in northern Europe, a peninsula north of Germany, bordering in the west the North Sea, in the north the Skagerrak and in the east the Sont and the Baltic Sea. Next to the two large islands Sjaeland and Fyn there are almost 500 small islands of which more than a hundred are inhabited.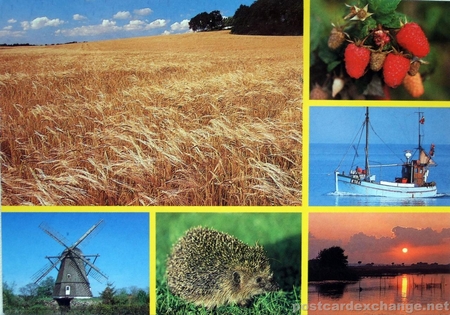 Meet Postcard Collectors From Denmark
Denmark lies between the North Sea and the Baltic, between northern Europe and the other Scandinavian nations, and (with more than 500 islands) between dry land and open sea. Visitors from all over the world come to Europe's oldest kingdom to explore the royal city of Copenhagen, to sample the glories of Denmark's rich culture, and to meet its vibrant and friendly people.
Read more about Denmark
Technorati tags: [ Denmark | landscape | postcard ]