The Eisenbahnmuseum Bochum-Dahlhausen is located in the Dahlhausen district of Bochum. You can see there old steam, electric and diesel locomotives, rolling-stock, signalling systems, etc.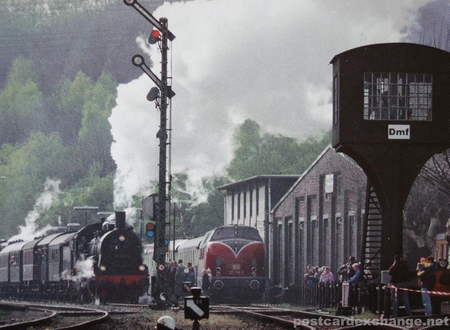 Find Postcard Collectors From Germany
Then Eisenbahnmuseum Bochum-Dahlhausen took over the whole area of 46,000 square meters and built up the biggest railway museum in Germany. In the middle of the museum, there is an engine shed with fourteen tracks. A preserved turntable, coaling, watering, and sanding facilities are still in operation.
Read more about The Eisenbahnmuseum Bochum-Dahlhausen (in German)
Online map of The Eisenbahnmuseum Bochum-Dahlhausen:
Technorati tags: [ Eisenbahnmuseum Bochum-Dahlhausen | museum | postcard ]
Eisenbahnmuseum Bochum-Dahlhausen