Fisherman's Wharf is the most well-known tourist attraction in San Francisco. It is known for its historic waterfront, delicious seafood, spectacular sights and unique shopping. Fisherman's Wharf offers a wide array of things to do for everyone. Fisherman's Wharf offers some of the most incredible views of the San Francisco Bay, the Golden Gate Bridge and the cityscape.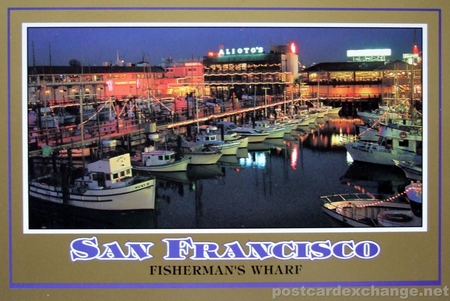 Meet People From San Francisco
Fisherman's Wharf is the North border of San Francisco along the San Francisco Bay. It started as a fishing port but is now the site of many museums, attractions, and some of the best seafood restaurants in the world.
Satellite image of Fisherman's Wharf in San Francisco
Some interesting things to see in Fisherman's Wharf:
The sea lions at the end, on the west side of Pier 39.
The other tourists coming off the tourboats to Alcatraz at Piers 41 and 43. It's called Vista Pier, but that's not a valid descrption when it's crowded.
The street musicians and seagulls at the often crowded triangular plaza there.
The World War II submarine and Liberty-ship moored at Pier 45, with a much better view at its end.
The actual fishing and party boats in the little harbor west of Pier 45.
Pier 47, where the fishing boats off-load, past the alley at Jones street — the end of the F-line historic streetcar line. Tourists rarely venture past Scoma's restaurant.
The old chocolate-making machinery at Ghiradelli's on Beach and Larkin.
The Maritime museum at Aquatic park, with many neat ship models.
Read more about Fisherman's Wharf in San Francisco
Fisherman's Wharf in San Francisco