San Francisco is a bustling, cosmopolitan city in California, the centerpiece of the Bay Area, well-known for its diverse ethnic and political communities, hilly terrain, world-class restaurants, and scenic beauty. It is located on 7×7 mile square of land at the tip of a peninsula between San Francisco Bay and the Pacific coast. It has a population of almost 800,000, but is the center of a metropolitan area of millions. San Francisco was founded in 1776 by the Spanish and has been a vibrant city ever since. Known today for its mixing of cultures, its liberal outlook, and its beautiful sights, it remains one of America's top tourist destinations.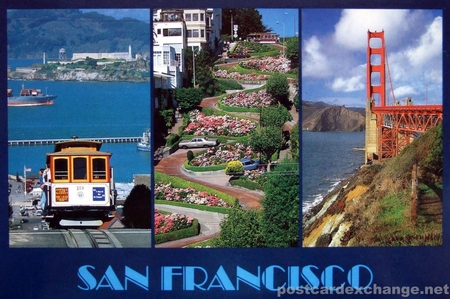 Meet People from San Francisco
It is important to remember that San Francisco is one of the most open-minded and progressive big cities in the country. With this open-mindedness comes a variety of languages, skin tones, sexual orientations, and hair colors; it is all a part of the joy of San Francisco, and as a visitor it is something that you have to learn to accept and welcome. San Francisco has an atmosphere of genteel chic mixed with offbeat innovation and a self-effacing quality so blatantly missing from brassy New York and plastic LA. Its hilly streets provide some gorgeous glimpses of the sparkling bay and its famous bridges.
Read more about San Francisco
Satellite image of San Francisco
Technorati tags: [ San Francisco | California | postcard ]