This postcard shows six famous locations in Rome, Italy:
The Colosseum
Roman Forum
St. Peter's
Trevi Fountain
Spagna's Square (Piazza di Spagna)
Navona Square (Piazza Navona)
Rome is also called Caput mundi – "capital of the world", la Citta Eterna – "the Eternal City", Limen Apostolorum – "threshold of the Apostles", la citta dei sette colli – "the city of the seven hills" or simply l'Urbe – "the City". According to legend, the city of Rome was founded by the twins Romulus and Remus on April 21, 753 BC.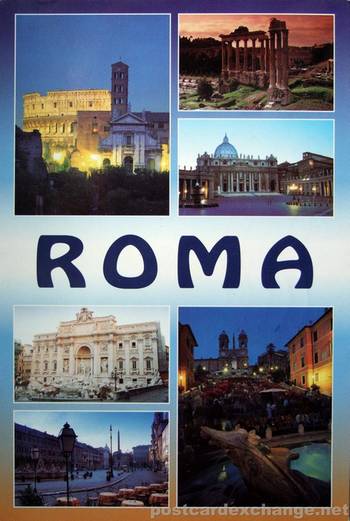 Of all the monuments in Rome, the Colosseum thrills the most. It was here that gladiators met in mortal combat and condemned prisoners fought off hungry lions. Built over the course of 900 years, the Roman Forum (Foro Romano) was the commercial, political and religious centre of ancient Rome from the Republican era until the 4th century AD. Interesting monuments facing the Piazza Navona square are: Stabilimenti Spagnoli, Palazzo de Cupis, Palazzo Torres Massimo Lancellotti, Church of Nostra Signora del Sacro Cuore and Palazzo Braschi (Museo di Roma).
Read more about Rome
Online map of Rome, Italy
Six Famous Locations in Rome, Italy