From the beauty of rugged mountains and scenic shores to vibrant cities and wide open spaces – South Africa is a land of many splendours. South Africa is well endowed with a large assortment of wonderful experiences so much that it is almost impossible to come up with a list of the very best experiences. You can enjoy the sweet scent of desert that amazingly turns into a colourful carpet of flowers in Spring or you can choose to see the big five in one of the world's most recognized national parks or simply take a journey to a deeper understanding of the country and humankind through some of the country's heritage sites.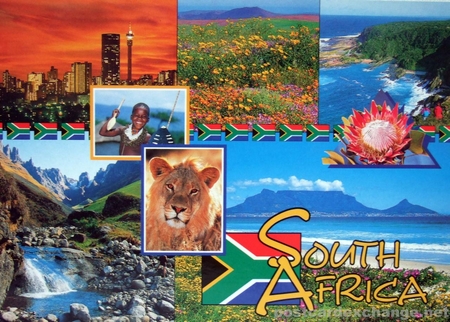 Find Friends from South Africa
Here are the top experiences that can give you fabulous fun. They include tours of the Drakensburg, Kruger National Park, Venda Art route, Namaqualand, Soweto, St Lucia Wetlands, Whale Watching, Sun City, The Cape Town Heritage Route, Garden Route, Backpacking and the Maloti route of the Free State province.
Technorati tags: [ South Africa | postcard ]
South Africa – The Land of Splendour