St. Stephan's Cathedral in Wien, Austria by night. St Stephen's Cathedral, with its 137m/450ft high spire, is not only the major sight and symbol of Vienna; it is also the city's most important Gothic edifice. Stephansdom (St. Stephen's Cathedral) in Vienna, Austria, has survived through many wars and has become a symbol of Vienna's freedom. The Gothic cathedral was first built in 1147 AD and its most recognizable characteristic, the diamond-patterned tile roof, was added in 1952.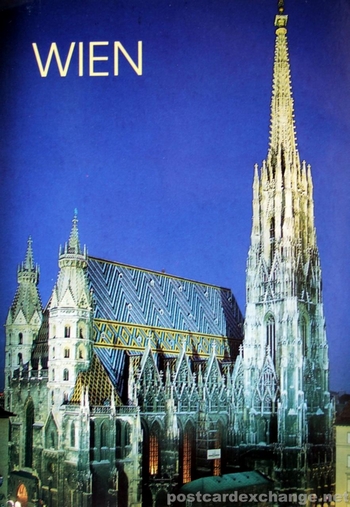 Interesting things to see in Stephansdom (St. Stephen's Cathedral):
The pulpit, in the middle of the nave, bears the images of four Latin church fathers: Ambrose, Jerome, Gregory and Augustine, all full of personality.
The railing is covered in interesting symbols: the lizards are animals of light, the battle toads are animals of darkness, and the "Dog of the Lord" at the top protects the sermon from their influence. Wheels with three parts (the Trinity) roll up, while wheels with four parts (the four seasons, representing mortal or worldly life) roll down.
A rare self-portrait of the artist (Anton Pilgram) is under the stairs, looking out a window with his sculptor's compass. This marks the transition point into the Renaissance, when artists began to be famous instead of anonymous.
The Pummerin bell is one of the largest bells in the world, and was cast from a cannon captured from the Turks in 1683. It rings out over the city on New Year's Eve. Take the elevator up the north tower to see the bell and get a view of the Vienna Woods (Wienerwald).
Read more about the St. Stephan's Cathedral in Wien
Online map of the St. Stephan's Cathedral in Wien:
Technorati tags: [ St. Stephan's Cathedral | Wien | cathedral | night | postcard ]
St. Stephan's Cathedral in Wien