The Vienna State Opera is one of the foremost opera houses in the world – and it offers diversity at the highest level. Three hundred days a year, the Vienna State Opera offers a program that changes daily. The State Opera building was built by August Sicard von Sicardsburg and Eduard van der Null 1861-1869. Before the opening in 1869, the architecture and acoustics were criticised and Van der Null committed suicide. Two months later Von Sicardsburg died of a stroke. In 1945 American bombing destroyed most of the building that reopened, almost completely rebuilt in 1955, when Austria regained independence.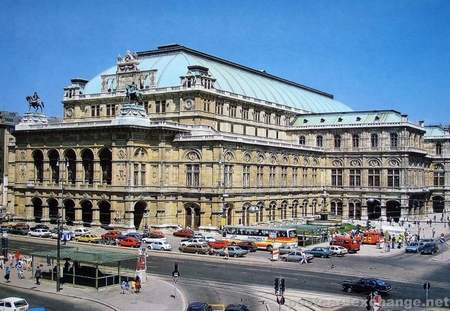 Browse snail mail pen pals from Austria
The Vienna State Opera House is one of the premier venues in the world. Today most of the Neo-Renaissance building is only decades old. The interior is a reconstruction. Though it attempts to capture the grandeur of the original building, an exact reconstruction would have cost too much. Still, the Staatsoper is symbolic of Vienna's emergence as one of the world's cultural capitals.
Online map of The Opera House in Vienna:
Technorati tags: [ Vienna State Opera | The Opera House in Vienna | Vienna | opera | postcard ]
The Opera House in Vienna