The Rainbow Bridge provided a two-lane crossing that could carry heavy vehicles. This is a very attractive bridge with its underside arches. It served the area before the Folsom Dam was built, in 1955, to control the raging winter torrents of the American River. It survived floodwaters and still serves the area, though now in a secondary capacity, and is as beautiful as ever.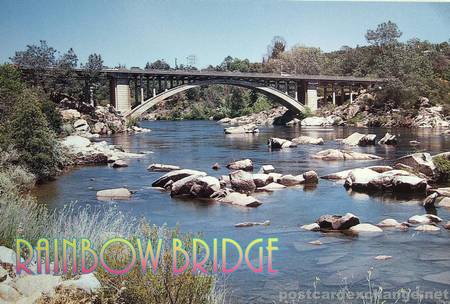 Find Friends from Folsom, California
The bridge was built in 1917 and underwent a major reconstruction in 1969. Up until 1999, when the new Lake Natomas Crossing was completed, it was the only means of crossing the American River in the City of Folsom.
Read more about the Rainbow Bridge in Folsom
Satellite image of Folsom, California
Technorati tags: [ bridge | rainbow | Rainbow Bridge | Folsom | California | postcard ]
The Rainbow Bridge – Folsom, California