The delightful Cameron Highlands still retain their natural charm and stunning beauty. There are three places on this postcard: Colonial Style Property, Tana Rata Town and a picture showing collecting tea at The Sungai Palas Estate. Cameron Highlands is the largest and most famous hill resort in Malaysia. This highland paradise still retains much of the charm of an English village.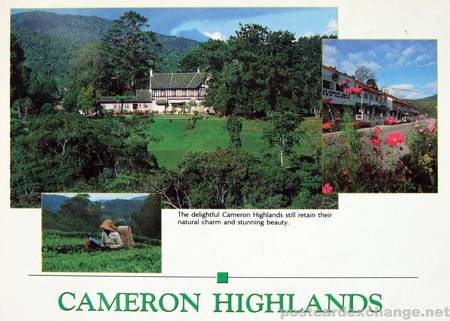 Cameron Highlands is the smallest district in the state of Pahang which is located in the north-western corner of the state. It is located about 20 km east of Ipoh and about 150 km north of Kuala Lumpur in Pahang, Malaysia. The Highlands were named after William Cameron, a British colonial government surveyor who discovered the plateau during a mapping expedition in 1885. The key attractions in Cameron Highlands include:
1. Cactus Point
2. butterfly farm.
3. strawberry farms.
4. rose gardens.
5. Sam Poh chinese temple.
6. Cactus Valley.
Each part of Cameron Highlands has its own individual charm and attractions, and together they combine to provide all the ingredients for a memorable holiday, no matter what your interest or what time of the year.
Technorati tags: [ cameron highlands | Malaysia | tea | postcard | tana rata | sungai palas ]
The delightful Cameron Highlands, Malaysia