Mist rises along the face of El Captain on a cold winter morning. The sheer cliff of El Captain rises about 3,000 feet above the valley floor, making it one of the largest exposed monoliths in the world.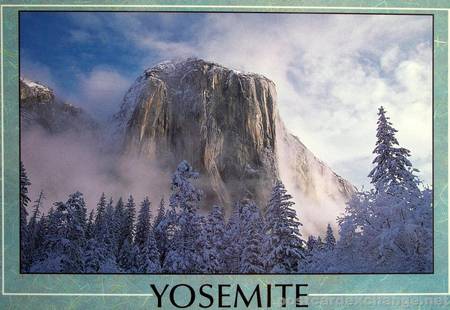 Rising almost 3,000′ straight up from the valley floor, El Capitan is the largest granite monolith in the world. It is one of the most famous rock-climbing spots in the US. El Capitan (also called El Cap) ascends three thousand feet straight up from Yosemite Valley. It is the second highest unbroken cliff in the world. This is the most famous piece of rock in the Yosemite National Park. Well visible from the road entering the park from the west, it is an incredible structure raising from the bottom of the Yosemite valley.
Satellite image of El Captain area in Yosemite Park
The top of El Capitan can be reached by hiking out of Yosemite Valley on the trail next to Yosemite Falls, then proceeding west. For climbers, the challenge is to climb up the sheer granite face; there are dozens of named climbing routes, all of them long and difficult. Since the Nose of El Capitan is 2900 feet high, the climb is usually done in thirty four pitches. For most people, a trip involving climbing El Capitan will usually take three to five days.
Technorati tags: [ El Captain | monolith | Yosemite National Park | California | postcard | winter ]
El Captain in Winter – Yosemite National Park, California