Imam Square (Meidan Emam), also known as Isfahan Royal Square, a huge open area built in the 17th century is adorned by impressive mosques, fountains and bazaar. Planned and built some 300 years ago at the time of the Safavid dynasty, it is a world heritage site and one of the jewels of the Middle East.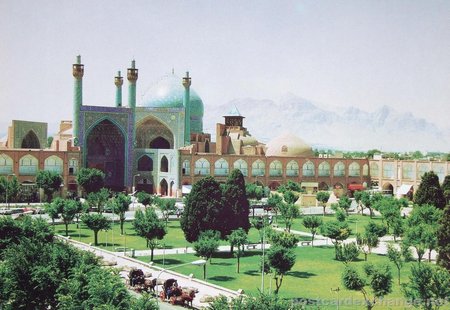 Find Postcard Collectors From Iran
The Meidan is a long rectangle, set on a north-south axis. At each of the compass points, theres a unique and fascinating masterpiece. Fittingly, since the Meidan is also known as Naghsh-e Jahan, "Portrait of the World", these can be divided into two quite earthly and two heavenly wonders.
Online map of Imam Square – Isfahan – Iran
Technorati tags: [ Imam Square | Isfahan | Iran | postcard ]
Imam Square – Isfahan – Iran