A tourist region par excellence, Sintra is one of the most delightful places to be found in Portugal. With its extensive range of green bills with its crags – the Serra de Sintra – so picturesquely situated and offering stupendous views of the coastline with its impressive beauty, Sintra is indeed "a garden of the earthly paradise".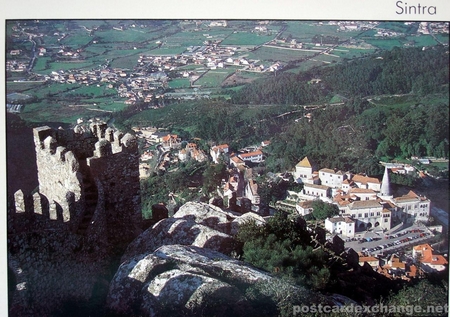 Find Postcard Collectors From Portugal
Sintra has remained even nowadays the "noble town surrounded by many estates, pleasant woods with plentiful springs of excellent water", referred to by various old authors. Sintra is both a town and a municipality in the Lisbon Coast/aka Estoril Coast region of Portugal. Its spectacular setting, 28km from Lisbon, houses a Royal Palace, used by generations of Portuguese royalty prior to the 1910 revolution. The surrounding hills are surmounted by the remains of the Moorish Castle and by the nineteenth-century Pena Palace.Historic Sintra is an heritage patrimony sight declared by UNESCO.
Online map of Sintra in Portugal:
Technorati tags: [ Sintra | Portugal | postcard ]