This poscard shows three locations in Vilnius, Lithuania:
Pilies Street
St. Nicholaus Church
Alumnatas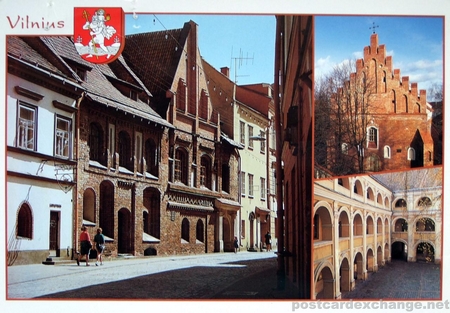 Vilnius is an administrative, cultural, political and business centre of Lithuania. About one seventh of the country's population live here. The Old Town is the heart of the capital, the oldest and architecturally the richest part of Vilnius. It is one of the largest old town centres in Europe, covering almost one tenth of the city's area. The Old Town is situated in a picturesque valley of two rivers – the Vilnia and the Neris.
Vilnius displays a variety of both architectural expression and willpower. This is perhaps due to the interesting history that rests in this attractive town, which not always has been the capital of Lithuania. However, for over five centuries, untill he 18th century, Vilnius had been political and cultural centre of Grand Duchy of Lithuania. The Old Town is Vilnius was included in the UNESCO World Heritage List in 1994.
Read more about Vilnius, Lithuania
Online map of Vilnius, Lithuania:
Technorati tags: [ Vilnius | Pilies Street | St. Nicholaus Church | Alumnatas | Lithuania | postcard ]
Three Locations in Vilnius