Tunnel Bay – Municipal Marina and City Hall – Brockville, Ontario. Brockville offers a variety of docking facilities, from the pleasure craft facilities at Tunnel Bay with a full service municipal marina to the deep water port of Centeen Park. We are able to welcome a wide variety of craft, from kayaks to cruisers, sloops to yachts, to passenger cruise ships.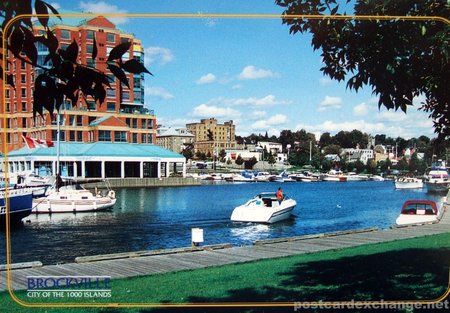 Find Postcard Collectors From Canada
Known as the "City of the 1000 Islands", Brockville is located on the north shore of the St. Lawrence River, directly opposite Morristown, New York, about half-way between Cornwall in the east and Kingston in the west and a little over an hour's drive south of the nation's capital, Ottawa.
Online map of Brockville, Ontario:
Technorati tags: [ Tunnel Bay | Brockville | Ontario ]
Tunnel Bay – Brockville, Ontario