This postcard shows Fuente Osmena in Cebu City, Philippines. Fuente Osmena is one of city's most famous landmarks dominating the uptown area where commercial and banking establishments have proliferated. It is a fountain honoring Cebu's favorite son, the late President Sergio Osmena, Sr. This beautiful fountain, stands at the center of a huge circular park called Fuente Osmena located at uptown Cebu City. The fountain was built to commemorate Cebu's first waterworks system.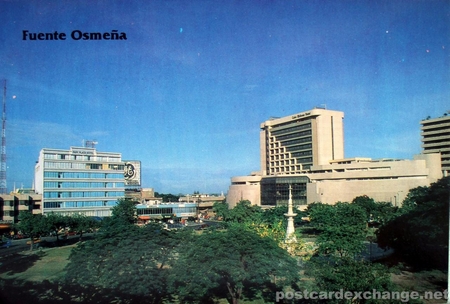 Find pen pals from Philippines
Cebu has gained wide popularity for its fantastic diving grounds evidenced by the proliferation of resorts which offer luxurious accommodations, excellent dive facilities and the services of competent dive masters and dive guides. Cebu's strategic location makes it ideal for those who wish to travel to the other islands and provinces.
Satellite image of Fuente Osmena in Cebu City:
Technorati tags: [ Fuente Osmena | Cebu City | fountain | Philippines | postcard ]