Bale Mountains National Park is located about 400 km south of Addis Ababa, Ethiopia. The park covers 2,400 square kilometers and contains a variety of endemic birds and animals, such as baboon, grey duiker, klipspringer, mountain nyala and reedbuck. It contains the Sanetti Plateau, which is the highest moorland in Africa and Tullu Demtu, Ethiopia's second highest mountain.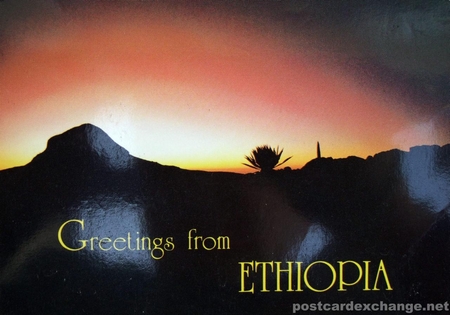 Find Postcard Collectors From Ethiopia
Bale Mountains National Park is the largest area of Afro-Alpine habitat in the whole of the continent. It gives the visitor opportunities for unsurpassed mountain walking, horse trekking, scenic driving and the chances to view many of Ethiopia's endemic mammals, in particular the Mountain Nyala and Semien Fox, and birds, such as the Thick-billed Raven, Wattled Ibis, Blue-winged Goose, and Rouget's Rail.
Read more about Bale Mountains
Online map of Bale Mountains in Ethiopia:
Technorati tags: [ Bale Mountains | sunrise | Ethiopia | postcard ]
Sunrise in Bale Mountains National Park, Ethiopia