Sommer – Freizeit – Erlebnis im schonen St. Gilgen am Wolfgangsee, Salzkammergut – Austria. St. Gilgen is a famous lakeside resort situated at the western part of the Wolfgangsee (Wolfgang Lake). Sankt Gilgen is easily accessible from Salzburg, which is only thirty kilometers away. Once a majestic stronghold of the prince-archbishops of Salzburg, St. Gilgen now is a playground for the Salzburg's new aristocracy – the fashionable and wealthy who have mountain villas around. In summer the resort attracts mainly Austrians and Germans to the indoor swimming pool and bathing beach, as well as to some fashionable and lavish parties and festivals.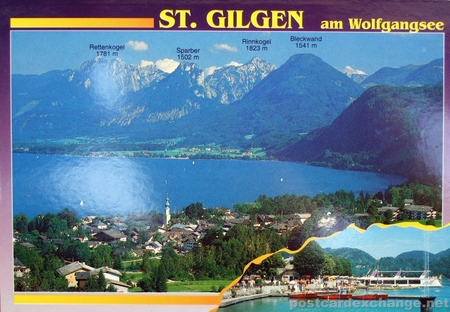 Find postcard collectors from Austria
There are a number of shops, cafes, restaurants and hotels situated around the lakeside, Uferplatz and the two squares, Mozartplatz by the town hall & Kirchenplatz by the church. Wolgang A Mozart's mother was born in St. Gilgen as so there are lots of reminders around the village. Being on the lakeside, there are lots of water activities.
Read more about St. Gilgen am Wolfgangsee, Austria
Online map of St. Gilgen:
Technorati tags: [ St. Gilgen | Austria | postcard ]
St. Gilgen am Wolfgangsee, Austria