Aerial view of the grounds of the Jefferson National Expansion Memorial and the 630 foot Gateway Arch in Saint Louis. The 630 foot stainless steel Gateway Arch reflects St. Louis' role as the gateway to the West. The park is a memorial to Jefferson's role in opening the West through the Louisiana Purchase, to the pioneers who helped shape the history of the American West, and to Dred Scott who sued for his freedom from slavery in the Old Courthouse.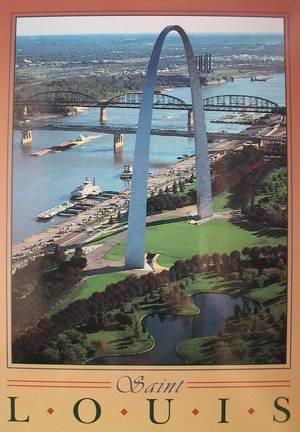 Visitors to the Gateway Arch can tour the Museum of Westward Expansion, ride the tram to the top, and watch the movies Gateway to the West and Monument to the Dream.
View satellite map of the Gateway Arch in St. Louis.
Read more about this location.
Jefferson National Expansion Memorial in Saint Louis