Lower Falls of the Genesee River at Rochester, NY. The Lower Falls are located near downtown Rochester NY. Accessible from Maplewood park, the falls are 109 feet in height. The Genesee River flows over the falls on its way North to Lake Ontario. The Lower Falls are part of a series of three water falls over the course of the Genesee River. All three falls are located in the city of Rochester.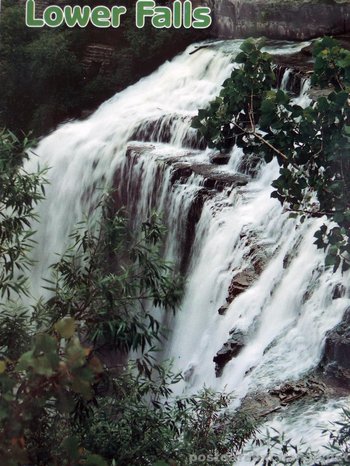 Find Penpals from Rochester, NY
The height of the Lower Falls is estimated to be between 78-109 feet depending on your source. Nearby to the Lower Falls is the Middle Falls, which is less spectacular, and is dammed to provide water via a tunnel to Rochester gas and Electric Substation #5. Generators are housed in a large building at the base of the lower falls to provide electricity. The falls are viewable via a walking path from Driving Park avenue accross the street from maplewood Park. More adventurous hikers can take a trail to the bottom of the gorge to view the falls. Less enthusiastic visitors can view the falls from the Driving Park Bridge.
Lower Falls of the Genesee River