The Peace Tower spirals skyward some 92m (302 ft.). It is the focal point of the Centre Block. The Parliament buildings are located in North central Ottawa along the shore of the Ottawa River, which is the boundary separating the Province of Ontario from the Province of Quebec.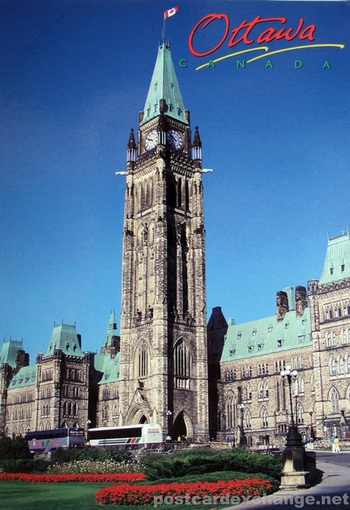 The Parliament Buildings themselves are comprised of a number of buildings, construction of which began around 1860. The East Block has been maintained as a historically accurate reflection of conditions at the time of Canada's confederation. The West Block, which contains the actual working offices of Canada's Prime Minister and the members of parliament, and is not open to the public. The Center Block contains the House of Commons and the Senate.
The two houses of Parliament, the House of Commons and the Senate, are in the buildings on either side of the Peace Tower, and can be visited, as part of a guided tour, along with Confederation Hall and the Hall of Honor. The Parliament buildings are a famous landmark and are the most photographed place in Ottawa, Ontario. You can visit the buildings and grounds and see the beauty of the architectural design of the building and learn about the historical significance it holds.
Read more about Parliament Buildings in Ottawa, Ontario, Canada
Satellite image of Parliament Buildings in Ottawa:
Technorati tags: [ Parliament Buildings | Ottawa | Canada | postcard | Peace Tower ]
Parliament Buildings in Ottawa, Ontario, Canada