This Russian postcard shows the Russian State Library in Moscow. Moscow is the capital of Russia, centre of the Moscow region. It's intersected by the Moscow river, which takes a number of tributaries between the Oka and the Volga. The largest of the tributaries are the Yausa and Setun'.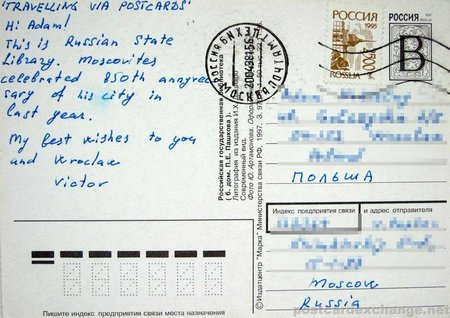 Find Postcard Collectors From Russia
Moscow is one of the world biggest cities. Its population is larger than 9,000,000 people. The territory of Moscow was 878,7 square kilometres. The boundary of Moscow (since 1960) corresponds to the Moscow ring road that is situated at 17-21 kilometres from a city centre.
Online map of Moscow, Russia:
Technorati tags: [ Moscow | Russian State Library | vintage | postcard ]
Russian State Library in Moscow