Newton Abbot: located at the head of the Teign estuary is a prosperous market town which is so centrally situated that it fully implements its proud boast that tourists who make the town their centre can visit any beauty spot in Devon and return in time for dinner. Courtney Park near the station is bordered by mid 19th century villas. The town centre has some Georgian brick houses and stucco blocks painted in a variety of pastel shades.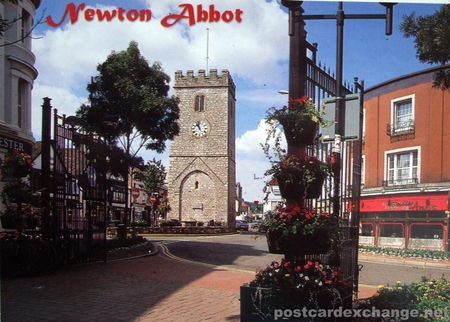 Find friends in Devon, England
Newton Abbot, Devon is located in the South West of England within Teignbridge District Council's region. Newton Abbot was once a quiet country market town for rural South Devon with a history dating back to Roman times. Great Western Railways made Newton Abbot a centre for its locomotive and carriage repairs in the mid 1800's. This lively, bustling town, offers the visitor a whole range of markets as well as historic buildings and lovely parks.
Satellite image of Newton Abbot
Newton Abbot has much to be proud of; St Leonard's Tower; Decoy Country Park and numerous other town parks; Forde House; Bradley Manor; a Town Quay; six allotment areas; excellent primary and secondary schools; Museum and Railway museum; a leisure centre; a new hospital under construction; the Racecourse to name but a few. Part of Newton Abbot's heritage is the historic Cheese and Onion Fayre, originally held on 5,6,7 November in honour of Saint Leonard.
Technorati tags: [ Newton Abbot | Devon | postcard ]