Dartmoor: the mysterious windswept hills of Devon, climbing to over 2,000 feet above sea level, are a paradise for those who wish to leave the turmoil of modern civilisation behind for a while. Picturesque granite-built villages nestle in folds of the moor, such as Widecombe, made famous in song, and antiquties, hut circles and clapper bridges abound. Dartmoor ponies will be found grazing in all parts of the moor.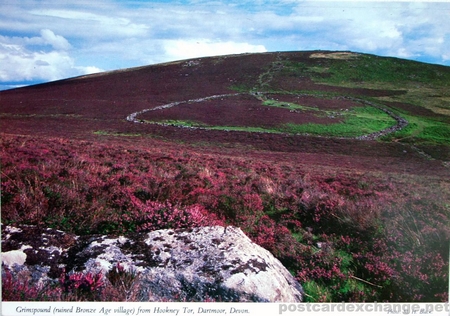 Find friends from Devon, England
Grimspound was built in the Bronze Age, the actual site covers 4 acres and consists of 24 hut circles enclosed within a stone wall which sits nestled in a small valley at an altitude of 1,477ft (450m). It is situated on Dartmoor, Devon, in the United Kingdom. As with any large site the best place to view the entire settlement is from the air, failing that on Hookner tor which lies to the north west.
The landscape around this north eastern fringe of the moor is dotted with prehistoric and historic artefacts. There are numerous hut circles, cairns, tumuli and barrows nearby, not to mention the enigmatic Hamel Down Cross and old boundary stones. Today, because of the isolation of the moor, and the dramatic scenery, echoes of the past can easily be heard. It is possible to spend days here exploring the hidden historic and archaeological treasures of the area.
Technorati tags: [ Grimspound | Dartmoor | Devon | postcard | moor ]
Grimspound from Hookney Tor, Dartmoor, Devon