Quebec City is internationally known for its Winter Carnival and the Château Frontenac, a historic hotel which dominates the city skyline. Québec City is the capital of the Canadian province of Quebec, making it the seat of the provincial Crown. It is the second largest city in the province, after Montreal. Quebec City is one of the oldest European settlements in North America.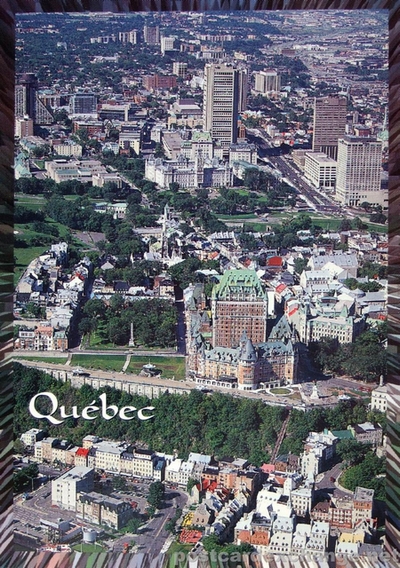 Practically all sights of interest are in the Old Town (Vieux-Québec), which is divided in two: the walled city on top of the hill is known as Haute-Ville ("Upper Town"), and the neighborhood between the walled city and the river is Basse-Ville ("Lower Town"). The two are connected by the aptly-named Escalier Casse-Cou ("Breakneck Stairs") and the rather easier funicular.
Satellite image of Quebec City
Quebec City's main sight is the Old Town, the upper part of which is surrounded by a stone wall built by both French and British armies. It is now a tourist district with many small boutiques and hundreds of historical and photographic points of interest. Some of the buildings are original structures, while others are built in the same style and architecture as former buildings.
Technorati tags: [ Quebec City | aerial | Canada | postcard ]
Aerial view of Quebec City