Sailboats drawn to the shimmery light of Lake Union. Seattle, Washington is nicknamed The Emerald City. It is the largest city in the Pacific Northwest. Located between Puget Sound and Lake Washington in King County. Known for being the home of the Space Needle, Microsoft, Nordstrom, Boeing, Amazon.com, Nintendo of America, Starbucks, and the University of Washington, Seattle is also the home of a vibrant arts scene and an excellent park system.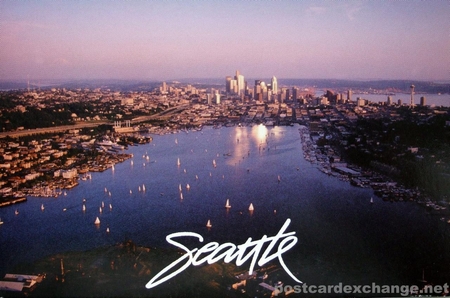 Meet Friends and Pen Pals from Seattle
Seattle is often regarded as the birthplace of grunge music, and has a reputation for heavy coffee consumption; coffee companies founded or based in Seattle include Starbucks, Seattle's Best Coffee, and Tully's. The city itself is hilly, though not uniformly so. Like Rome, the city is said to lie on seven hills; the lists vary, but typically include Capitol Hill, First Hill, West Seattle, Beacon Hill, Queen Anne, and the former Denny Hill. The rivers, forests, lakes, and fields were once rich enough to support one of the world's few sedentary hunter-gatherer societies. Opportunities for sailing, skiing, bicycling, camping, and hiking are nearby and accessible almost year-round.
Read more about Seattle, WA
Satellite image of Seattle, WA
Technorati tags: [ Seattle | Lake Union | dusk | sailboat | postcard ]
Seattle and Lake Union At Dusk