The Tatras (Tatra Mountains) are the highest part of the Carpathian mountain range, and for centuries they were Poland's natural border in the south. Arriving in Poland by air, the granite peaks rear up out of the clouds, slashing the skies like the claws of some mythic beast. Tatra Mountains, or the Tatras (Polish Tatry), is the highest range of the Carpathian Mountains and lie along Poland's border with Slovakia. Two hour's drive from Krakow one finds stunning views and pristine nature as well as the best skiing in winter and hiking, rock climbing, cave exploration, cycling, paragliding, etc. through the rest of the year.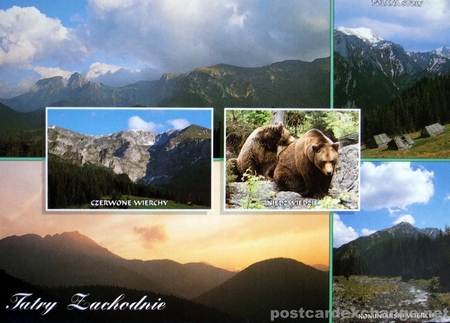 The Tatra Mountains are high but relatively small. They are only 53 km long in a straight line measure and 80 km long if you measure them along their curved crest. They are approximately 15 km wide. Their width in the widest spot is only 18,5 km. Of their whole area of approximately 750 km2 to Poland belong only one fith, i.e. approximately 150 km2. The Highest peak is Gerlach (2,654m over the sea level ).
On the Polish side thehighest peak is Rysy (2,499 m), but its proper, higher peak (2,503 m) is located at the Slovac side. Rysy is only the tenth highest peak in the Tatra Mountains. The highest peak which is entirely on the Polish side is Kozi Wierch (2,291). It is located between two valleys: Dolina Gasienicowa and Dolina Pieciu Stawow Polskich.
Online map of the Tatra Mountains in Poland:
Technorati tags: [ Tatry | Tatra Mountains | mountains | Poland | postcard ]
Tatry – Tatra Mountains in Poland