Leba is a town in Middle Pomerania, Poland, located near Łebsko Lake and the mouth of the Łeba River at the coast of Baltic sea. Here is the list of the most interesting things to see in Leba:
ruins of the Nikolaikirche (St. Nicholas church) west of the city on the way to the beach
fishermen's church of 1683
fishermen's dwellings from the 19th Century in ulica Kosciuszki
the castle in ulica Sosnowa, today the hotel Neptun
former rocket test site near Pletka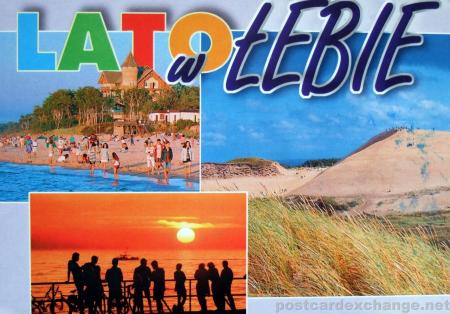 The title of this postcard (Lato w Lebie) means "The summer in Leba". There is also an abundance of architectural and natural attractions near Łeba, for instance the Slowinzi national park with the sand dunes, 8 km west of the city.
Read more about Leba
Online map of Leba in Poland:
Technorati tags: [ Leba | postcard ]