View of Vida del Mar with its L'Recif Restaurant – Manzanillo, Colima, Mexico. Nestled onto a mountaintop next to the breaking Pacific Ocean, Vida Del Mar is one of the Mexican Rivera's premiere resorts. Featuring three spectacular swimming pools (with views of the ocean), a world class French restaurant, and a private beach, Vida Del Mar pleases the most discriminating tastes.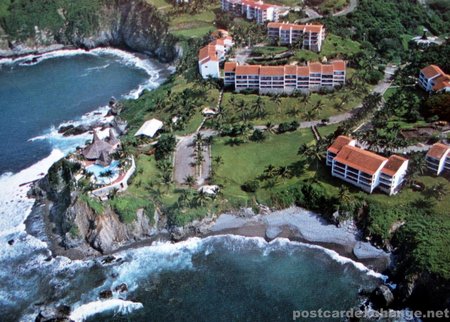 Find Postcard Collectors From Mexico
Dolphins are commonly spotted from the cliffs surrounding the cove and visitors to the Vida del Mar Condo complex insist they have the best sunset view of the area. Watch as the sun casts a rainbow of colors down across the many points and sharp cliffs jutting from the blue Pacific.
Online map of Vida del Mar – Manzanillo, Colima, Mexico
Technorati tags: [ Vida del Mar | Manzanillo | Colima | Mexico | postcard ]
View of Vida del Mar – Manzanillo, Colima, Mexico