This aerial shows Old Sacramento in the foreground with the California State Capitol visible in the center of the photo. Sacramento is the capital of California, it is located along the Sacramento River and just south of the American River's confluence in California's expansive Central Valley. The pace of life is somewhat slower than in other large Californian cities, and the people are generally warm and friendly. According to Time magazine Sacramento is the most diverse city in the USA.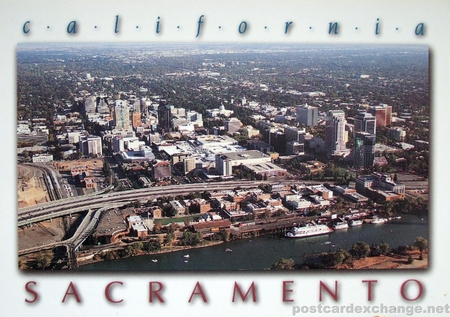 Meet People From Sacramento, CA
Located in a leafy valley of scenic rivers and canopies of trees, today's Sacramento is a cosmopolitan convergence of tall, gleaming buildings, hearty Victorians, splendid restaurants and shops, a vibrant arts scene, and a virtual cornucopia of state of the art meeting facilities.
Read more about Sacramento
Online map of Sacramento:
Technorati tags: [ Sacramento | aerial | postcard ]
Aerial View of Sacramento