From the fishing pier you are looking west along the bike path and the beach. Ventura offers the best in family seaside recreation. Ventura, the gateway to the Channel Islands National Park, is a classic Southern California beach town offering the services and amenities that make every visit a memorable experience. Ventura combines Spanish charm, sophisticated cuisine, cosmopolitan appeal and real people.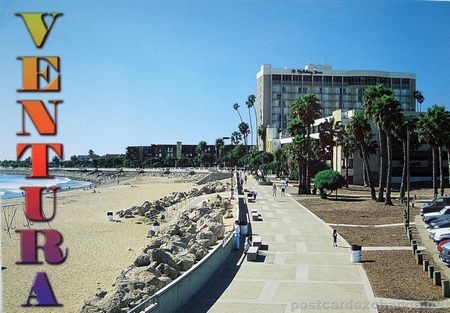 Rich and famous like to escape and hide out in Ventura because its bistros and clubs offer the finest meals, minus the stuffy atmosphere, traffic and big city trappings. Ventura is vintage not only in its ability to preserve history with places such as lovely Spanish mission San Buenaventura, historic ranchos and the building in which famed writer Earle Stanley Gardner created his Perry Mason crime solving novels.
Ventura, officially known as San Buenaventura, means "city of good fortune" in Spanish. The name is taken from the Spanish mission built in 1782 by Father Junipero Serra as the ninth and last of the 21 missions the founder of California missions actually oversaw. Destroyed by an earthquake and rebuilt in 1815, a triangle at the entrance symbolizes the holy trinity and the ornamentation on the wall around the side door opposite a fountain is actually a map of the area for wayward travelers.
Read more about Ventura, CA
Online map of Ventura, CA
Technorati tags: [ Ventura | California | beach | bike path | postcard ]