The ever changing skyline of Kuala Lumpur, Malaysia. Kuala Lumpur is a fairly sprawling city for its size. For many visitors the center of the city lies in the Golden Triangle, between Jalan Sultan Ismail, Jalan Bukit Bintang, Jalan Pudu, Jalan Tun Perak and Jalan Ampang: this is where most of the city's shopping malls, five-star hotels and trendiest nightspots are, and the Kuala Lumpur City Center (KLCC) development home to the famous Petronas Twin Towers is at the northern edge.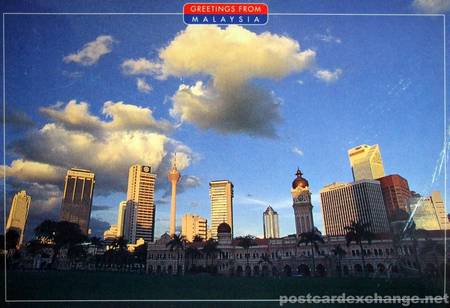 Meet people from Kuala Lumpur, Malaysia
The economic boom of the 1990s brought KL the standard trappings of a modern city, bristling with skyscrapers and modern transportation systems. Like most of Malaysia's big cities, about 55% of Kuala Lumpur's population is of Malaysian Chinese descent. Jamek Mosque – this building's notable features are three elegant domes which dominated the KL skyline long before the popularity of skyscrapers.
Read more about the skyline of Kuala Lumpur
Technorati tags: [ skyline | cityscape | Kuala Lumpur | Malaysia | postcard ]
The Skyline of Kuala Lumpur, Malaysia