City from the Kopje. Samora Avenue by day and dusk. Harare is the capital of Zimbabwe and few African capitals make such a deep impression on the visitor as this city does. With its modern high rise buildings and vibrant cultural scene and dozens of interesting places to visit. The city is laid out on a grid pattern, which makes it easier to explore the wide jacaranda lined avenues by foot. It is a vibrant cosmopolitan city, with shopping malls, cinemas, theatres, night clubs and restaurants to suit everyone's budget.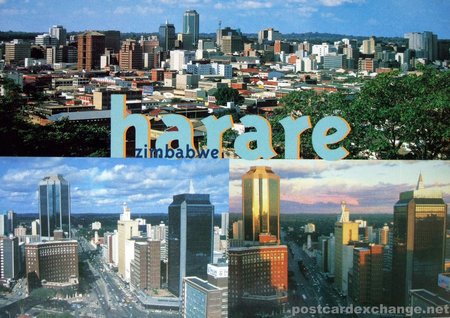 Find Postcard Collectors From Zimbabwe
Attractions in the city include many old historical buildings which have been preserved, as well as many modern structures such as the National Gallery and the National Archives.
Read more about Harare in Zimbabwe
Online map of Harare in Zimbabwe
Technorati tags: [ Harare | Zimbabwe | postcard ]
Aerial views of Harare in Zimbabwe