Badger's Holt is one of those many delightful beauty spots now protected as part of Dartmoor National Park. This is the Dartmoor are where the East and West Darts unite to form the main river; here are stepping stones to carry the explorer to the centre of the river – without disturbing reflections of surrounding trees. At Totnes the river becomes navigable from small craft.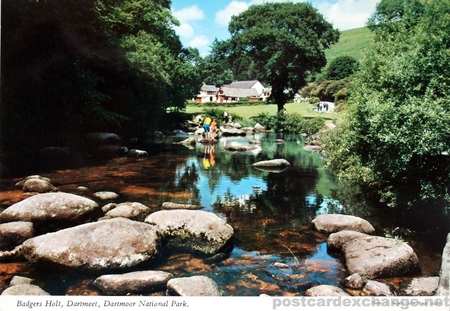 Once an old fishing lodge, Badger's Holt nestles at the foot of 1300 feet high Yar Tor, at the famous beauty spot where the east and west tributaries of the River Dart meet. Badger's Holt is today a fully licensed restaurant with half a mile of tranquil river frontage and outside seating from which to watch the world go by as you enjoy a full meal or light snack and a drink from the bar.
It is located at the edge of Dartmoor National Park, about a 20 minute drive from the A38 at Ashburton. Badgers Holt is believed to be 'The summer residence of Mr Rose locally known as the "Badger". If you want to add something about this place feel free to leave your comment.
Satellite image of Badger's Holt
Technorati tags: [ Badger's Holt | Dartmoor | Dartmeer | Totnes | postcard ]
Badger's Holt, Dartmeet, Darmoor National Park