The Bruneau Sand Dunes are thought to have resulted from a flood some 30,000 years ago. The flood eroded sand from surrounding mesas and piled it on the dunes. Winds off southern Idaho's high desert continually added more sand. Rising water tables have created the ponds at the base of the dunes in the last 100 years.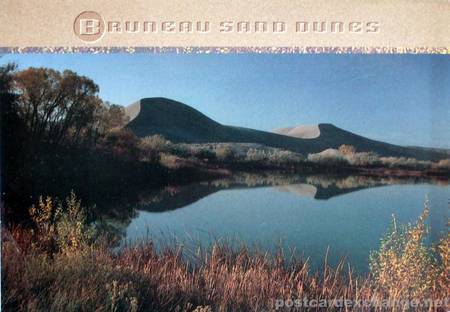 Meet people living near Bruneau Sand Dunes
The Bruneau Sand Dunes State Park, established in 1970, is located about 8 miles east-northeast of Bruneau and about 18 miles south of Mountain Home. The dunes at Bruneau Dunes State Park are unique in the Western Hemisphere.
Satellite image of Bruneau Sand Dunes
The park contains lake, marsh, desert, prairie and dune habitats. Since most desert wildlife is nocturnal, early morning and late evening are the best times for spotting the park's inhabitants. However, a sharp eye often is rewarded with a daytime glimpse of lizards and rabbits, or raptors such as owls, hawks, and eagles. There is no hunting in the park except with cameras and binoculars.
Read more about Bruneau Sand Dunes
Technorati tags: [ Bruneau Sand Dunes | sand | dune | postcard | Idaho ]
Bruneau Sand Dunes, Idaho