Chiang Kai-shek Cultural Center is located within The National Chiang Kai-shek Memorial Hall hall complex. CKS Cultural Center is the name for the organization that includes the National Theater and National Concert Hall, Taiwan's two top performing arts venues. Completed and opened in 1987, the theater and concert hall have served as two bookends to the memorial hall.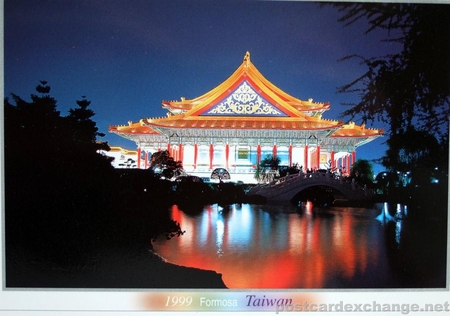 Find new friends and penpals from Taiwan
The ponds and parks surrounding the memorial and cultural centers feature well-maintained lawns, trees, and pathways. The ponds are filled with the colourful koi traditionally found in gardens in East Asia. One often sees people in the parks playing Go or practicing taekwondo, Tai chi chuan and other martial arts.
Satellite image of Chiang Kai-shek Cultural Center:
Technorati tags: [ Chiang Kai-shek Cultural Center | Taipei | Taiwan | postcard | C.K.S. ]
C.K.S. Culture Center in Taipei