Flower pots etched by the sea at Hopewell Cape, New Brunswick, Canada. Hopewell Cape is a Canadian village and headland in Albert County, New Brunswick at the northern end of Shepody Bay and the mouth of the Petitcodiac River. Hopewell Cape is the site of the Hopewell Rocks, a world-famous geological formation accessible at low tide on Shepody Bay. Hopewell Cape is also the site of the Albert County Museum that features an original gaol and courthouse.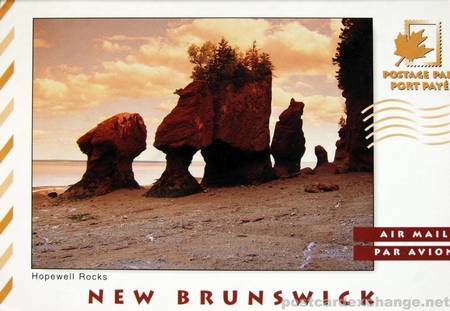 Find Friends in New Brunswick, Canada
Hopewell Rocks, at the Hopewell Cape on the Bay of Fundy, is one of the most unusual sights in the world! An on-site interpretive center is loaded with displays and maps that help to explain the geological phenomenon that occurs here daily. The Fundy Tides are the highest in the world and here at Hopewell Rocks, they have carved four-story sculptures out of the rock, known as "flowerpots," creating one of the marine wonders of the world.
Read more about Hopewell Cape
Satellite image of Hopewell Cape
Technorati tags: [ hopewell rocks | hopewell cape | new brunswick | rocks | sea | canada | postcard ]
Hopewell Rocks, New Brunswick – Canada's Natural Beauty