Texas limestone, terra cotta tiles, stained glass and elaborate plasterwork are just some of the elements embodied in the opulent Moody Mansion and Museum in Galveston. The historic home, circa 1892, is hailed as an extraordinary example of traditional Victorian architecture.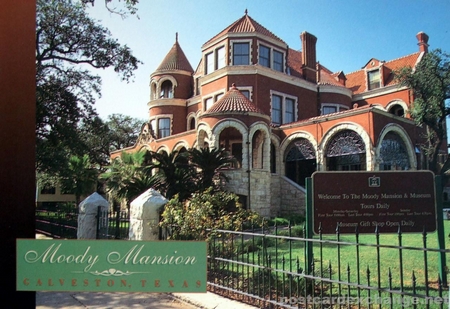 Find Pen Pals and Friends from Galveston, TX
Moody Mansion, the residence of generations of one of Texas's most powerful families, was completed in 1895. Designed by English architect William Tyndall, the brick Richardsonian Romanesque manse withstood the great storm of 1900. Its interiors of exotic woods and gilded trim are filled with family heirlooms and personal effects. Moody Mansion offers a tour that depicts the home life of a powerful Texas family. The Moodys established one of the great American financial empires. Based on cotton, it grew to include banking, ranching, insurance and hotels.
Read more about Moody Mansion in Galveston, Texas
Satellite image of Moody Mansion in Galveston, Texas
Technorati tags: [ Moody Mansion | Galveston | postcard ]
Moody Mansion in Galveston, Texas