Kitsilano Beach with English Bay and the city of Vancouver in the background. Some people go to play, some go to be seen, others go to chill out, but the bottom line is, the whole city goes. If Vancouver is really "Hollywood North," then this must be its Venice Beach. This bustling beach attracts people from all walks of life.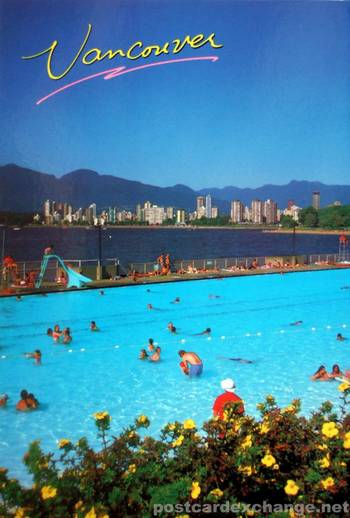 Find Friends from Vancouver, Canada
Kitsilano Beach is one of the most popular beaches in Vancouver, especially in the warm summer months. It is definitely a happening place geared for the younger set (teens to thirties) with a lovely outlook spanning from open bay, to North Shore mountains to Stanley Park. There are lots of activities here with something for everyone.
Read more about Kitsilano Beach
Satellite image of Kitsilano Beach, Vancouver, Canada
Technorati tags: [ kitsilano beach | vancouver | canada | postcard ]
Kitsilano Beach, Vancouver, Canada