A peaceful walking path along the Ohio River near Three Rivers Stadium and the Carnegie Science Center. Clemente Park welcomes strollers, joggers and sightseers at nightfall. Roberto Clemente Memorial Park is maintained by the Department of Parks and Recreation, City of Pittsburgh, Pennsylvania, in honor of Pittsburgh Pirates great Roberto Clemente. The park is located along North Shore Drive in the city's North Side, near Heinz Field and PNC Park.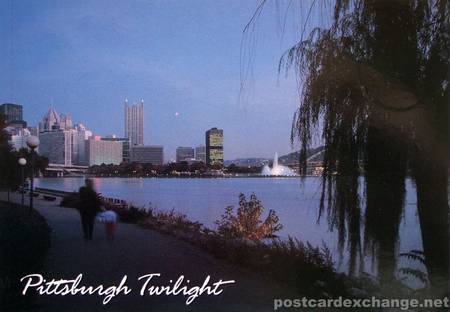 Meet People From Pittsburgh, PA
Roberto Clemente Walker was a Major League Baseball right fielder and right-handed batter. He was elected to the Hall of Fame posthumously in 1973 as the first Latin American to be selected, and the only exception to the mandatory five-year post-retirement waiting period since it was instituted in 1954.
Read more about Roberto Clemente
Satellite image of Clemente Park, Pittsburgh, PA
Technorati tags: [ twilight | pittsburgh | park | roberto clemente | postcard ]
Pittsburgh Twilight – Roberto Clemente Park