This is a vintage postcard showing Krasnaya Street in Krasnodar. This postcard was made in former U.S.S.R. Krasnodar is a city and administrative centre of Krasnodar Kray, located in southwestern Russia, lying along the Kuban River. Founded about 1793 as a Cossack guardpost on the Kuban frontier, it developed as a military town. The population of Krasnodar is about 800,000 people, and it is 18th among the Russia's largest cities.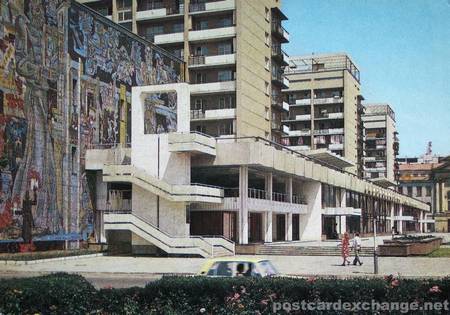 The original name Ekaterinodar meant "Catherine's Gift" in recognition of the Russian Queen "Catherine The Great". After the Russian Revolution of 1917 the city received it's current name Krasnodar, which means 'Beautiful Gift'.
Satellite image of Krasnodar, Russia
Krasnodar Territory is unique in its geographical location and climatic resources, as well as in its diverse natural landscapes and wealth of plant and animal life. There are also huge deposits of construction and road-building materials, such as facing stone, shell rock, limestone, granite, marble, and more.
Technorati tags: [ krasnodar | russia | krasnaya street | postcard | ussr ]
Krasnaya Street in Krasnodar, Russia