South Africa's fifth largest city: Donkin Reserve and lighthouse, historic City Hall, yach marina and replica of Bartholomew Dias cross.
Port Elizabeth, often shortened to PE and nicknamed "The Friendly City" or "The Windy City", stretches for 16km along Algoa Bay, and is one of the major seaports in South Africa. It is known for its sunshine and safe sandy beaches. For the tourist wanting a total South African experience, Port Elizabeth is the perfect complement to the Garden Route, Settler Hinterland, Sunshine Coast and Cape. Located on the South Eastern coast of Africa, this major sea port and tourist destination is set along the beautiful shores of Algoa Bay, and is fondly referred to as the Friendly Eco-City. Port Elizabeth is South Africa's second oldest city and also the commercial capital of the Eastern Cape.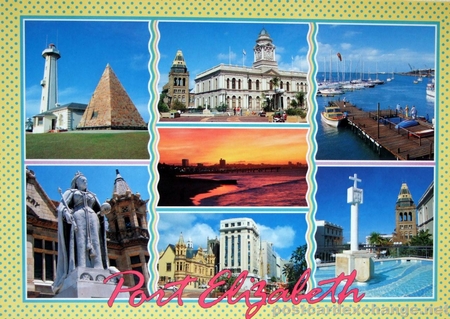 Meet new friends from South Africa
Port Elizabeth is one of South Africa's best beach holiday destinations, with 40km of unspoiled coastline — mostly golden sandy beaches renowned across the world. Port Elizabeth gets more sunshine hours than any other city in this part of South Africa. The Indian Ocean gives the city magnificent weather — Port Elizabeth's weather ranks in the world's Top Five for coastal cities. The region is South Africa's favourite eco-destination for outdoor enthusiasts and nature lovers. If you like the outdoors, there is so much to choose from — mountain-biking, river rafting, kayaking, bird watching and beach and country rides by horse.
Original postcard's description: Suid-Afrika se vyfde grooste stad: Donkin-reservaat en vuurtoring, geskiedkundige Stadsaal, seiljagmarina en replika van die Bartholomeus Dias-krus.
Read more about Port Elizabeth
Satellite image of Port Elizabeth
Technorati tags: [ Port Elizabeth | South Africa | postcard ]
Port Elizabeth – Eastern Province