New England's most impressive commercial development, dominated by the 52-story Prudential Office Tower, has become the focal point of Boston's Back Bay. The Prudential Center has 7 fine restaurants, more than 40 shops and stores.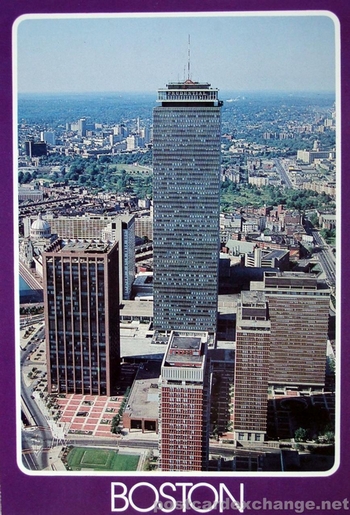 The Prudential Center opened in 1965 and with its 52 stories, reigned as the city's tallest building until the 60-story Hancock tower was completed 11 years later. The building features 10 acres of glass curtain walls and 4,000 windows. While the tower itself is mostly used for office space, it is also part of a complex that includes almost 50 shops (including the Lord & Taylor and Saks Fifth Avenue department stores), plus numerous restaurants and services.
Read more about The Prudential Center
Prudential Center Skywalk, a 50th-floor observatory atop the Prudential Tower, offers panoramic vistas of Boston, Cambridge, and the suburbs to the west and south — on clear days, you can even see Cape Cod. There are also interactive exhibits on Boston's history; the Skywalk is one of the attractions on the Boston CityPass.
Satellite image of The Prudential Center
Technorati tags: [ Prudential Center | Boston | skyline | postcard ]
The Prudential Center in Boston