Europe's largest parliament building, the 691 room neo-gothic palace streches 268 metres along the river Danube. The Parliament Building (Országház) in Budapest in a neogothic jewel, beautifully situated overlooking the Danube. The commanding building of Budapest Parliament stretches between Chain Bridge and Margaret Bridge on the Pest bank of the Danube. It draws your attention from almost every riverside point. The Gellért Hill and the Castle Hill on the opposite bank offer the best panorama of this huge edifice.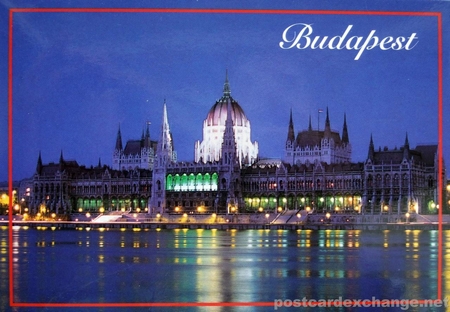 Pen Pals from Budapest, Hungary
Budapest Parliament is the third largest parliament in the world. Today it seems too big for such a small country, but at the time of its construction Hungary formed part of the Habsburg Empire, that stretched from the Tatra Mountains to the Adriatic. The Hungarian Coronation Regalia is the most prized treasure, it includes the Holy Crown, the orb, the sceptre and a Renaissance sword. Other notable attractions are the numbered cigar-holders, that line the window sills outside the debate chambers.
Satellite image of Budapest Parliament:
Technorati tags: [ Parliament | Budapest | night | postcard ]
Budapest by night – Parliament Building