Sunset at Hale'iwa's Ali'i Beach Park combine the elements of sand, sea and sky in a spectacular display of colors. HALE'IWA comes as a pleasant surprise. It's one of the very few communities on Oahu whose roots have not been obscured by a century of rebuilding and development.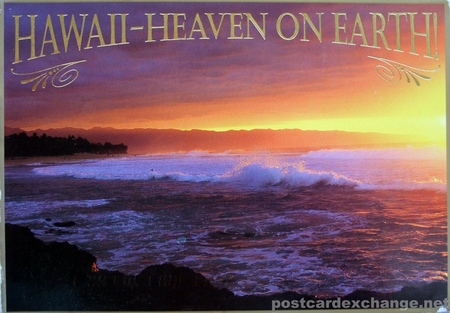 Find new friends and pen pals from Hawaii
Hale'iwa's Ali'i Beach Park, Waimea Bay, the Banzai Pipeline, and Sunset Beach offers waves of up to 50 feet – a must-see for natural phenomena hunters. More than 50% of Hawaii travelers marking the North Shore as a must see destination.
Haleiwa was established by the missionaries in 1832. Today, this quaint town is the unconventional shoppers' dream for art, crafts, clothes, and surfing items.
Read more about Hale'iwa
Satellite image of Hale'iwa', Hawaii:
Technorati tags: [ Hale'iwa' | Ali'i Beach Park | Haleiwa | Hawaii | sunset | postcard ]
Sunset at Hale'iwa's Ali'i Beach Park