The real Bridge Over River Kwai in Kanchana Buri, Thailand. The Bridge on the River Khwae (the Death Railway Bridge). Thanks to several films and books, the Bridge on the River Khwae has become notoriously famous and attracted both Thais and foreigners to the site. If an ordinary black iron bridge can tell a story, you can be sure it's a dramatic one. The name "Death Track" was given to this railway track during World War II due to the death of the prisoners of war building it. However, the trip is only safe and very pleasurable nowadays.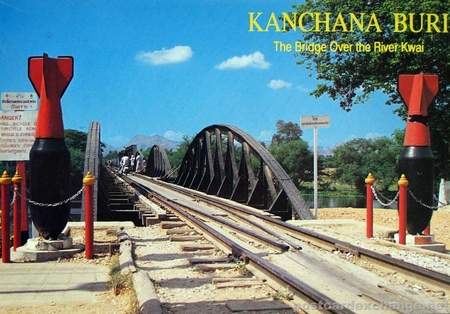 Find Postcard Collectors From Kanchana Buri, Thailand
The railway was built by the Imperial Japanese Army during World War II when Siam, as Thailand was known at that time, and all the other countries in Southeast Asia were occupied by Japan. As the occupation army was encountering strong counter-attacks by Allied forces by sea and air, Japan had difficulty in supplying its troops in Burma up to the border of India.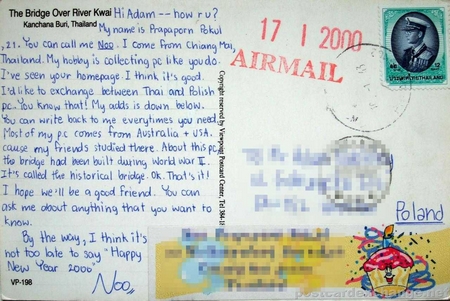 Now the so-called Death Railway is mainly a railway for tourists. It takes you to picturesque countryside to see vast expanses of green fields, a breath-taking viaduct winding along a precipice, long ranges of jungle-covered mountains and a waterfall which is quite a safe place for even children to play in because the water volume is small and the rocks are not slippery.
Technorati tags: [ The Bridge Over River Kwai | bridge | Kwai | postcard ]
The Bridge Over River Kwai in Kanchana Buri